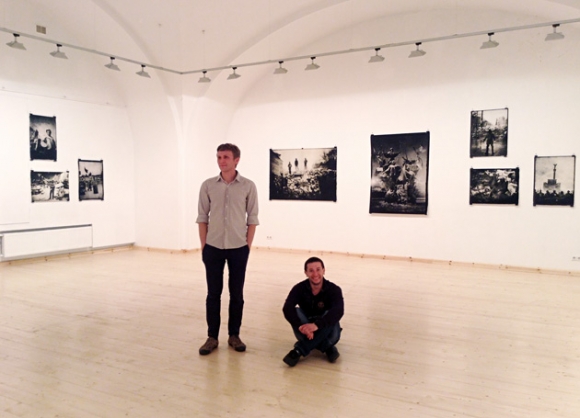 Riga Photomonth 2015 events this week
May 5
Riga Photomonth's off-year events continue this week. On Wednesday, May 6th 6pm, Nico Baumgarten will launch his new book How the Other Half Lives, a commentary on modern-day society starring the stray cats of Riga. A pop-up exhibition will also take place in the ISSP yard (Raiņa street 31). Nico will present his work and provide an insight into the process of self-publishing.
Nico Baumgarten (1981) is a German freelance photographer and bookmaker trying to find a way out of the limitations of the editorial and art market by creating books. He has studied photography at the IDEP in Barcelona and bookbinding at the CFP Bauer in Milan, and has self-published three books, all handmade in limited editions. Nico has taught photography and led bookmaking workshops in Berlin, Riga, Caracas, Rio de Janeiro, Amsterdam and Paris.
On Thursday, May 7th 6pm, an opening of the exhibition Euromaidan by Shilo group will take place at the creative studio of the exhibition hall Arsenāls. Vlad Krasnoshchok and Sergiy Lebedynskyy documented the protests in the Maidan Square in Kiev for several days. However, their aim was not to merely document the events, but also to express a deeply personal position and to participate in the activities of the protester community. As a result, a unique exhibition in terms of the content and technology and a book Euromaidan saw the daylight. On Friday 6pm the artists' talk will be held at the Nordic Club House (Kalēju street 3) in Riga.
On Thursday, May 7th 7pm, the Riga Film museum will screen the programme Photography in Film II that encompasses documentary films and newsreels that were made in-between the 1950s and the 1970s in Latvia.
Next week the Riga Photomonth will continue with the public discussion on copyrights, artist talk by Andrew Miksys and the launch of this year's Latvian Photography Yearbook.
All news