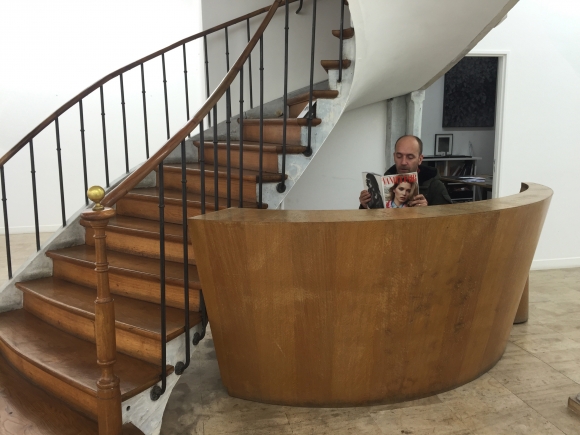 Open call for workshop by Gordon McDonald
February 24
Photographers and visual artists working with text are welcome to the workshop Words and Pictures - Pictures and Words with Gordon MacDonald (GOST Books). The workshop which will take place in 8 - 11 May as part of SELF PUBLISH RIGA and Riga Photomonth.
In this workshop aimed at both photographers and photobook editors, Gordon MacDonald, Director of GOST Books, will run a series of lectures, seminars and personal feedback sessions aimed at practitioners who want to know more about combining images and text.
The workshop will begin with a lecture on the history of photographers working with text and MacDonald's own work as an editor and creative director of photographic publications. With a starting point of the basis of language, the alphabet, participants will be encouraged to explore the difficult balance of working between words and images. They will go away with a better idea of how they can use image and text in their work.
The participants must have a body of work they want to focus on during the workshop.

Gordon MacDonald is currently director of GOST Books, London. He was founding editor of Photoworks magazine (UK) and Head of Publications at Photoworks working with artists such as Oliver Chanarin and Adam Broomberg, Alec Soth and Stephen Gill. He is also a curator, writer and one half of the creative partnership MacDonaldStrand with artist Clare Strand.
For more information please visit SELF PUBLISH RIGA website.
Riga Photomonth is organized by association Riga Photomonth, ISSP and FK Magazine in collaboration with Latvian Museum of Photography, Riga Film Museum, The National Library of Latvia, Latvian Centre for Contemporary Arts, JCDecaux and other partners. Riga Photomonth 2016 is kindly supported by ABLV Charitable Foundation, State Culture Capital Foundation, Nordic Club House, French Institute, USA Embassy, Antalis and Sony.
The event is funded by State Culture Capital Foundation, Antalis, French Institute, USA Embassy, Mercure Hotel Rīga. In collaboration with magazine FK,YET Magazine, Paris Photo, Aperture Foundation, The Library Project
Photo by Gordon MacDonald
All news